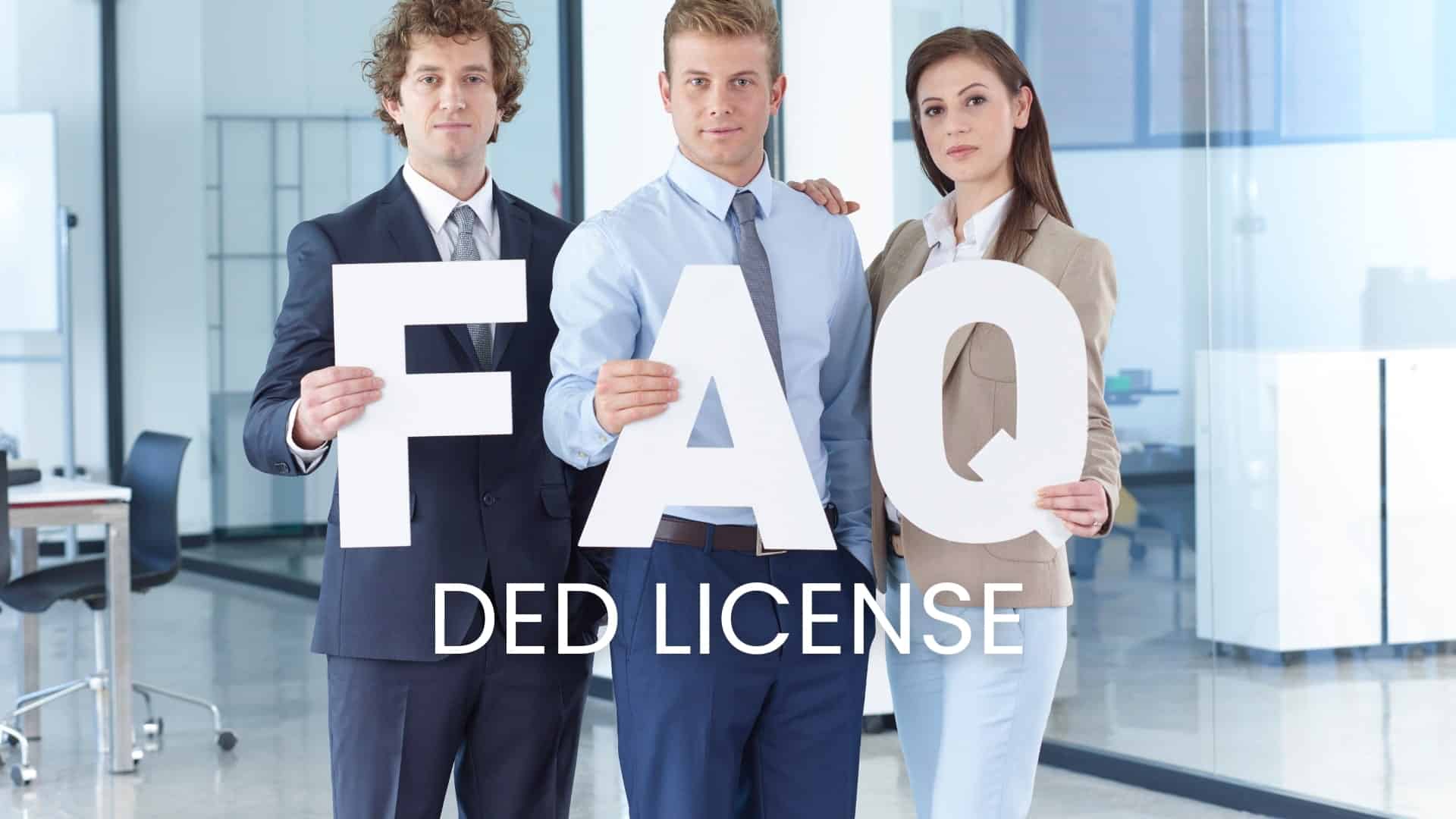 Dubai is an attractive destination for entrepreneurs and businesses looking to establish a presence in the Middle East. However, obtaining a Dubai Economic Department (DED) license is an essential requirement to operate legally in the city. The process of obtaining a DED license can be confusing, especially for expats and foreign entrepreneurs. To help you navigate the process, we've put together ten frequently asked questions about DED licenses.
Frequently Asked Questions About DED License
​​1. What is a DED license, and why is it essential?
To legally operate in Dubai, businesses need to obtain a permit from the Dubai Economic Department DED license also known as Dubai mainland license. Without this license, businesses are not allowed to conduct business activities in the city. Keep in mind that operating a business in Dubai without a valid license can result in penalties and fines, including the possibility of being shut down.
2. What types of DED licenses are available?
DED issues different types of licenses based on business activities like commercial, professional, industrial, and tourism licenses. Getting the right license is important because the wrong one can result in penalties or even closure of your business. Each application is reviewed carefully, and the DED assigns the appropriate license. Requirements and fees may vary for each type, so it's essential to understand your business activities before applying.
3. What is a commercial license?
A commercial license is one of the most common types of licenses issued by the Dubai Economic Department or Dubai mainland. It is mandatory for businesses involved in buying and selling goods, such as trading companies and retail outlets, to obtain a commercial license before commencing operations. The license permits businesses to import, export, distribute, and sell goods within the local market and beyond.
4. What is a professional license?
If your business in Dubai provides non-physical services like consultancy, a professional license is the right license for your business. The DED issues this license to businesses engaged in activities that require professional degrees or qualifications, such as legal services, accounting, engineering, architecture, medical, and educational services. Although a local service agent (LSA) is required to issue this license, businesses can still retain 100% ownership. This means that the LSA is required to be on the license, but does not have any ownership stake in the company or the license.
5. What is an industrial license?
An industrial license is issued to businesses engaged in industrial activities, which include manufacturing, processing, and assembling of products. Having this license allows companies to establish a physical presence, own land, and carry out industrial activities in the emirate. Furthermore, it enables companies to import raw materials and export finished goods, facilitating trade opportunities.
6. How do I apply for a DED license?
To apply for this license in Dubai, you need to submit specific documents, including a copy of your passport, two passport-size photographs, and three potential options for your trade name or company name. You also need to provide proof of residence address either in the UAE or your home country, and if you are a resident, a copy of your visa or entry stamp if you are on a tourist visa. If you are a UAE resident, you also need to provide a copy of your Emirates ID (front and back). Finally, you need to include proof of payment for the license application.
7. What is the cost of obtaining a DED license?
The cost of obtaining a DED license in Dubai depends on various factors, including the type of license, the size of the company, and the location of the office space. It is important to note that the fees for each license type may differ. You can contact us, Choose UAE, for a free consultation or use a cost calculator to estimate the total cost of obtaining a Dubai mainland license. Proper planning and understanding of the costs involved in obtaining a license can help businesses prepare financially and avoid any surprises down the line.
8. Can I obtain a DED license without a local service agent?
Yes, you can obtain a Dubai mainland without a local service agent (LSA) for commercial and industrial license. However, a local service agent is required for professional licenses.
9. Do I need to have an office in Dubai to obtain a DED license?
Yes, you need to have a physical office space in Dubai to obtain a DED license. The office space should meet the minimum size and other requirements set by the DED. Keep in mind that visa allocation is dependent on office size.
10. How long does it take to obtain a DED license?
Obtaining a DED license can take different amounts of time depending on various factors. On average, the process takes around 7-14 business days, although this can vary based on the type of license and how complete your application is. Late submission of documents and payments can cause delay.
Conclusion
To establish a business presence in Dubai, obtaining a Dubai Economic Department also known as Dubai mainland license is a vital prerequisite. By having a clear understanding of the application process and meeting all requirements, you can ensure a smoother and faster process with no unwanted delays. Additionally, seeking assistance from a trustworthy business formation company can also streamline the process and help you navigate any challenges more efficiently.
How Can Choose UAE Help
Choose UAE is an award-winning business formation and growth partner, providing one-stop-shop services for businesses looking to establish and grow in Dubai. With our team of experienced professionals and strong relationships with government authorities, we can assist businesses in obtaining a Dubai Economic Department license hassle-free and efficiently. Contact us today to learn more about our services and how we can help your business succeed in Dubai.
Start Your Business Journey with Us
Can't find the answer you're looking for? Don't worry we're here to help!
Don't want to waste more time? Here are some quick accesses for you.